In Ireland and all over the world, it is a legal requirement to have Car Insurance. It is important to understand that you need to have the right policy that is suited to you and understand what your policy entails. Car insurance is there to protect you and your vehicle when you need it the most. It is important in the event of any damage to your vehicle, injuries to other passengers, drivers or pedestrians.
There are 3 main categories of Car Insurance:
Third Party insurance – This isn't always the cheapest option. The policy covers any injury to other people and damage to other property.
Third Party, Fire, and Theft – This policy is very similar to Third Party, but it covers the cost of a replacement vehicle or repairs if yours has been damaged by fire or stolen.
Comprehensive – This policy is the highest standard you can get. It covers any accident that may involve other people and protect you against any damage to your vehicle. It can very often include legal expenses, and a courtesy vehicle, this can sometimes cost extra.
Purchasing Comprehensive Car Insurance policy is worth that little bit extra as it will ensure that you are covered and protected if an accident does occur as this will involve getting your vehicle repaired. In this Blog, I am discussing and offering some useful tips as to why car insurance for vehicle repairs  is important:
Comprehensive Car Insurance will cover all Vehicle Repairs
Comprehensive Car Insurance policies protect you if any damage has come to your vehicle in results of an accident, fire, or theft, all repairs are covered by your insurance brokers. If any injury has occurred to you and any damage to your vehicle which include property damage and car bodily injury you are covered under your policy cover. With this policy, you are offered complete peace of mind knowing that vehicle repairs are covered by your insurers if an accident may occur and your vehicle needs repairing especially if you have a new car.
If an accident has occurred, your policy and insurers conveniently arrange the recovery of your vehicle
If you have been involved in a motor accident, it is important that you ring your insurance company and they will arrange for your vehicle to be towed away if it is not drivable. A fully comprehensive cover will ensure that a recovery service is grantable. Free assistance is set up by your insurers.
If your car is a write-off, your insurance company will pay out money for the market value of the motor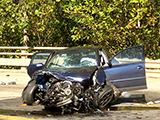 If you have been involved in a motor accident, and your vehicle has incurred some damage, your insurer will take into consideration the repair costs, in general, 50% of the vehicle's value then the car is deemed a "write off". Once your insurer has cleared all information they will keep the car and you will receive a cash payout of the market value of the vehicle. The term market value means the price the vehicle was sold at a dealership before it got damaged. In an accidental circumstance, your insurance company will exclude the policy excess amount from your value.
Any slight or Minor damages that need to be repaired will be covered by your insurance company
All vehicle damages even minor ones, you are fully covered by Comprehensive car insurance policies whether it was your fault or not. You should notify your insurance company right away if you have been involved in a motor accident. If your car is repairable, then your repairs will only be completed by an approved repairer.
You could end up in debt if you do not have Insurance
Driving without Insurance is completely Illegal. A lot of people run into difficulty managing money after a motor accident. Having no Insurance, you could face penalty points, lose your license, and face fines. You will also be responsible for your own repairs and the other person repairs also just like you would for repairing and maintaining your own kids car at home. This could lead you to bankruptcy and not be able to pay off your debts.
Direct Billing is sent to your Insurers from your chosen accident repair company
A lot of Insurance brokers will have their own Repair company on their side where they want a car to be repaired if this is necessary. This will help keep the costs to a minimum. The accident repair team will work on the car and bring it back to its pre-accident condition. There will be a full evaluation made on the cost and the bill will be sent to your insurance company for hassle-free direct billing.
Your legal costs will be covered by your Insurer
If you or another driver has been injured in a car accident and your car is not insured, your insurance company may be liable to pay out for your court proceedings legal costs, etc that is if someone has made a claim against you. Once the process and proceedings have started, your insurance company will deal with the case and be in touch with you during the process. In a lot of other cases, if you are responsible for the accident with no insurance, you may be liable to pay for the legal fees out of your pocket. Find out more about motor legal expenses cover!